The Stout Boys
Tough on Health; Tough on the Causes of Health.

Never mind the Michelin Stars - here's the Thumbs-Up Awards

Toulouse:
Bar Barille.



For serving us beer and putting up with our lack of French.
Max's kebab Shop.



For reopening the shop after we left Bar Barille and for inviting us in for breakfast on Sunday morning.
Max's is now unfortunately closed
McDonalds.


Simply the greatest McDonalds in the world.
---
Biarritz:
Cafe Kirola.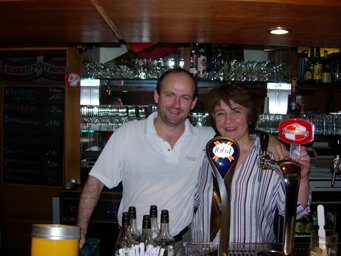 3 Avenue Marchal Foch. Tel- 00 33 (0)5 59 24 03 91
For Peo and his wife supplying us with beer, wine, water and aspirin. And for trying to teach us Basque. Mil Esker
Peo has since moved on, but Nicholas is doing a great job in his place.
Bar la Marine.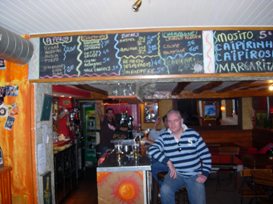 28, rue Mazagran. Tel 05 59 24 87 71
For Gorka serving us all sorts of drink, teaching us about jai-alai and taking us to the Heineken reception.
Gorka's not there any more and the bar hasn't much else to recommend it.
---
Bourgoin:
Cafe des Sports – Serge .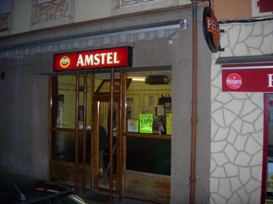 2 Rue Grenette, 38300 Bourgoin Jallieu
For keeping the drinks coming, introducing his family and supplying the chess board!!! ?????
The Chelem.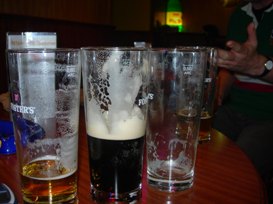 36 avenue des Alpes, 38300 Bourgoin Jallieu. Tel 0474 43 8089 www.thechelem.com
For dodgy Murphys and putting the match on for us.
St James.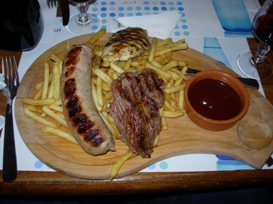 Great feedin.
---
Llannelli:
The Kilkenny Cat



for plying us with drink, locking us in and driving us back to our M4 hotel via Swansea.
Penllergaer:
Little Chef


for quite possibly saving our lives with a couple of out-of-hours pizzas.
---
Bath:
The Couer de Lion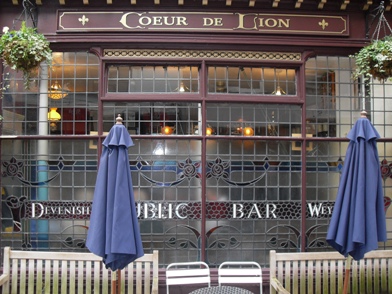 thanks to Michelle who looked after us while we nipped in for a quick pint after breakfast until we staggered out around 8:30 (??)
Great beers too.
The Ocean Pearl

Great Chinese buffet - even the Ogre had to admit defeat.
The Jazz Cafe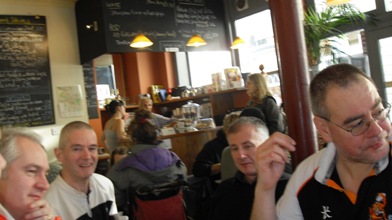 Excellent breakfast - whether you're after a fry or a plate of chilie with extra Tabasco
The Star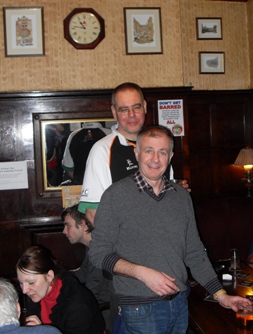 Good beer, good crack, good surroundings
---
Northampton:
The Wig and Pen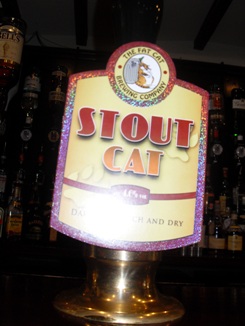 Richard and his staff created a home from home for the Ulster masses.
Great beer garden and the crack was 90 especially during the golf.
The Super Sausage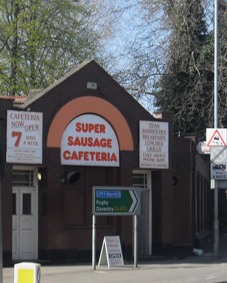 Proper greasy spoon, not usually found in such a central location.
---
Munster
Pam's Ulster Fry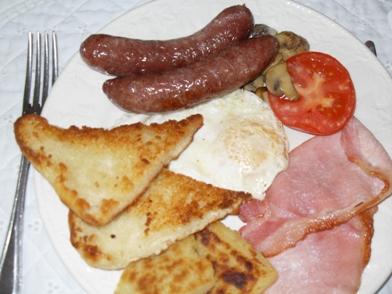 Deep in the heart of Munster - imported Co Antrim Sausages and freshly made soda and potato bread
---
London:
Bar Tonino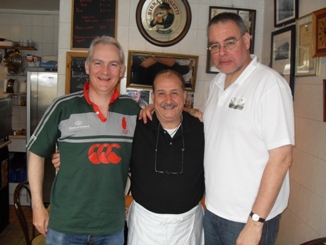 10 Station Approach, Pinner
Great Food, Great Service, Great Hosts, Great Crack
The Ogre's Lancashire Hot Pot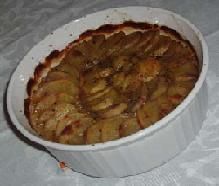 Recipe for Hot Pot from the Liverpool end of Lancashire
Ingredients:
Lamb (1)
Onions (couple)
Flour (handful)
Worcester sauce (dash)
Brown Ale (1 gallon)
Some leaves (green bits off trees) (1 or 2)
Spuds (2 or 3 lb)
Sambucca (1/2 bottle)
Tabasco (1 pint)
Method:
1. Pre-heat the oven to 170C/325F/Gas 3 – forgot to do that? just switch it on now, it'll be hot enough
2. Rob a lamb and slice the neck into chops.
3. Brown the lamb in a large heavy-based frying pan or hub-cap. Lob it into a big pot.
4. Do the same with kidneys.
5. Go down to the allotment and dig up someone's onions – fry them.
6. Add flour. Worcester sauce and ½ pint of ale, stirring until the flour and liquid are smoothly blended.
7.Pour over the meat in the pot.
8. Add the bay leaf (or tobacco leaf or whatever), then stick potato slices on top.
9. Stick in the oven for an hour or two.
10. Meanwhile get lashed into the remaining ale.
11. At the end douse with Sambucca and ignite to get the potatoes crispy.
12. Cover with Tabasco sauce to taste.